DD's most popular commissions are VW door sculptures.

See some of DD's commissioned VW sculptures below. Imagine your dog(s) being captured in this unique sculptural portraiture.
Different color options are available.
Contact DD for pricing and other information.
---
Red Dog
Corgi and Friends
Duo
Tibetan Terrier
Portugese Water Dog
Chrome Dog
2 Collies And Chinese Crested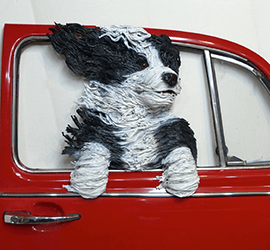 Tibetan Terrier
A Collection Of Pets!
3 Old English Sheepdogs
Red Dog

Corgi and Friends

Duo

Tibetan Terrier

Portugese Water Dog

Chrome Dog

2 Collies And Chinese Crested

Tibetan Terrier

A Collection Of Pets!

3 Old English Sheepdogs